Asparagus Wrapped in Crisp Prosciutto - (The Temper Trap - Trembling Hands)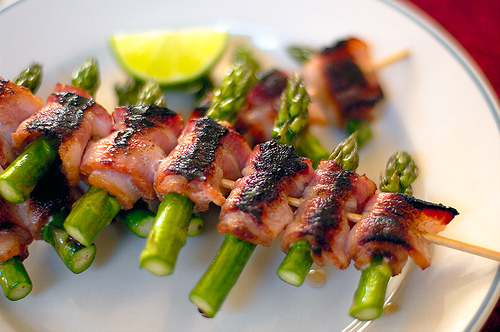 Ingredients:
 15 ml olive oil
16 spears fresh asparagus, trimmed
16 slices prosciutto
How to:

1) Preheat the oven to 450 degrees F (220 degrees C). Line a baking sheet with aluminum foil, and coat with olive oil.
2) Wrap one slice of prosciutto around each asparagus spear, starting at the bottom, and spiraling up to the tip. Place the wrapped spears on the prepared baking sheet.
3) Bake for 5 minutes in the preheated oven. Remove, and shake the pan back and forth to roll the spears over. Return to the oven for another 5 minutes, or until asparagus is tender, and prosciutto is crisp. Serve immediately.
Enjoy and Lick That Plate!